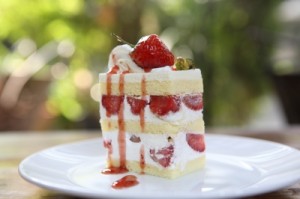 "Cakes & Ale."
I had never heard this saying before this week (and maybe that is because I live in the US of A and not in the UK (or because I've not read my fair share of Shakespeare or Dickens – embarrassing, but true).
BUT…for some reason I knew it would become one of my favorite ideas.
You see, the phrase "Cakes and Ale" is a synonym for "living the good life" (as is "Beer & Skittles", a similar phrase used by Charles Dickens in The Pickwick Papers).
And living the good life is something I do know about. In fact, it's what I help my clients do each day.
One of the ways I do this is by creating meditations.
Meditation reduces stress, increases health and well-being, and generally just makes your life better! And don't we all want that?
So, I've created a short, 7-minute meditation that I want to give to you as a gift of appreciation for being part of my circle. I designed this meditation specifically to:
Fit into your super busy day (it's only SEVEN minutes long! You owe yourself this!)
Reduce your stress levels (you DO want less stress, yes?)
Raise your level of calm, useful, energy (not that shaky, stressed out, over adrenalinized type of icky energy)
Increase your sense of well-being (AHHHH! It's a wonderful thing to have a sense of well-being!)
WOW!! PLUS…it's super easy, AND I used beautiful music composed by Christopher Lloyd Clarke as well as Christopher's beautiful ocean sounds recorded at Rocky Island Beach, on the Southern Australian island of Tasmania!!
So, here ya go! A stress free 7-minute mini vacation to a gorgeous beach where you'll be serenaded by your own private symphony! And it's my gift to you.
After all of this Black Friday, Cyber Monday, Cyber Tuesday, Cyber Week ridiculousness I just wanted to HAND YOU something for free that could help reduce your stress levels during this CRAZY time of year!
So here's to you living the good life!  Listen by clicking here: Peaceful Beach 7 Minute Meditation
If you'd  like to purchase it…click here.
I'd love to help you have a happy, stress-free, holiday season.
Cakes & Ale,  Beer & Skittles, or in other words…
Love & Magic,

P.S. I'd love to hear about your experience at the Peaceful Beach!
WARNING!! As with any guided meditation, this meditation audio is intended for general information purposes only, and is not intended to substitute for informed professional medical, psychiatric, psychological, or other professional advice.  And of course…Do not use while driving or operating machinery.
Image courtesy of piyato / FreeDigitalPhotos.net