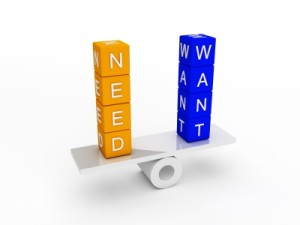 Have you ever had one of those days or weeks when you ran out of just about everything all at once?  The never-ending-grocery-store-list kind of day?
How about a time when it felt like everything needed fixing or replacing at once?  Sometimes big things – the car breaks down or needs new tires, a major appliance decides to quit working, your computer crashed and now your cell phone won't turn on. Sheesh.
I think we've all had these types of experiences. "When it rains, it pours!" So the saying goes.
A few weeks ago I had a similar realization on a smaller scale, but it had a huge impact on me.
My bathrobe tore at the top seam as I hung it up.  The day before I had been folding laundry and recognized that I really needed to replace some most of the things I was folding.  And then that got me to thinking about a few other things that needed fixing or replacing, some of them much bigger than a torn bathrobe. Then I felt myself creating a long list of things that I "needed" to take care of… and suddenly…aha moment.
I realized that at least 6 months ago I saw a bathrobe that I really loved, but I didn't buy it because I didn't really "need" it…and that thought led to a deep dive into my experience of "wants vs. needs".
As a young child growing up my sister and I were raised by a single mom. As an adult I now recognize how hard Mom worked to make ends meet.  We always had what we needed, but not always the extra things that weren't necessities. I'm sure that was the beginning of my thinking that it was okay to have something if I "needed" it, but otherwise, I didn't really feel okay about asking for it.  Asking for something that I didn't need would have caused my mother more stress, and as an eager to please six-year-old, I did not want to cause my poor mom any more stress.
How many times have you wanted something and then told yourself or someone else that you don't really need it? Or maybe you decided it was okay to ask for it for your birthday or some other special occasion, but not today, not just on an ordinary day.  How many times have you felt guilty for wanting something (or buying something) because it wasn't a necessity?   And yet, who in the world wants to live a life where all they ever have is the bare necessities?  I certainly don't. And I certainly didn't want my children to just barely have their needs met either!
I'm thankful that I am not living in that place now, of only having the bare necessities – but the realization that a belief from when I was a child is still impacting me and my choices even in a small way packed a big punch.
So, (once again!), I've discovered an INNER belief system that has had a big impact on my OUTER experience.
The question that I asked myself was this: If I can only have what I NEED, what outer conditions will I create to get it?  The answer was NEEDINESS. As in, now that my bathrobe is ripping at the seams I can replace it and feel okay about it.  Blech.  (Let that sink in.)
Now, I am not advising you to just get totally splurgy on yourself by mindlessly going on a wild spending spree to buy everything you've ever wanted while forgetting that you have a budget or a financial goal to save money or anything like that…and I'm not going to do that either.   Because this whole experience is not really about money.  It is MUCH deeper than that.
In fact, this whole idea doesn't even have to do with spending at all.  Maybe you don't feel like you "need" a relationship, or a community, or a vacation, or a new widget.  So, No, I am not encouraging you to spend more than you have.
If your hidden belief says it is wrong to want something (say, because you really don't *need* it and it would upset mom to ask for it) then that belief has become a limiting belief and you MUST become aware of it to change it. The beliefs that served you well as a child may not be the beliefs that will serve you best today.
Beliefs are something we can change.  Our beliefs create our thoughts, our thoughts create our stories, our stories create our experience.
What beliefs will you choose today?
Love & Magic,

Image courtesy of David Castillo Dominici / FreeDigitalPhotos.net