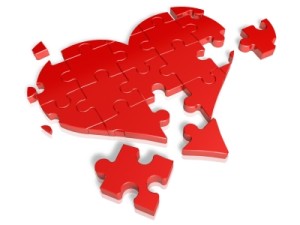 Broken hearts…my logical mind keeps telling me that this is NOT something I should be writing about at Valentine's Day.
BUT my intuition is coming at me full force about it…so I'm going to go with my gut here and just write.
Broken hearts happen for all different reasons…our hearts break because our relationships break, or end, or don't meet our expectations.
We endure brokenheartedness because we endure loss, and loss is a common part of our human experience. All manner of losses – we lose lovers and loved ones, pets, health, finances, jobs and career opportunities, hopes and dreams. And loss is hard.
In fact, one study found that we fear loss twice as much as we appreciate gain, that we experience in double measure the pain of loss, as opposed to the pleasure of a similar gain. The technical term for this is loss aversion. We are wired to be averse to losses. Loss – we don't like it. It doesn't feel good. And when the loss is particularly painful, we often refer to it as "having our heart broken."
So to some extent we've all experienced it, and I hate knowing that…I really hate knowing that you have experienced having your heart broken. Because I've been there, and it sucks.
I also know that everything you want is on the other side of your broken heart.
At one time I really tried to resist this particular aspect of my purpose, my calling, helping to bring more Love and more Magic into the world by helping people heal their broken hearts.
My logical mind (there she goes again) gave me lots of reasons to go in other directions, "There has to be something better", ol' logic brain would say. "Why would you want to spend so much time dealing in this area?" or "You have decades of knowledge and experience in the realm of nutritional healing, you should be a health coach" and "the real opportunities are in coaching around business, you're a certified business coach, you should do that." At times my left brain would even argue, "Why don't you just read tarot cards for people, you're amazing at it (wait was *that* my left brain?) or the constant whisper of "You'll have to end up being a dating coach if you go into this relationship area you know." And on and on and on the logical mind would argue and resist…
And I think that all of those logical thoughts are valid. I mean, Why? Why would I want to follow a path that in large part is a constant reminder of hearts being broken?
Broken by life's dark side, broken by mean spirited beings who have ignored you or lashed out at you or dashed your dreams or counted you as unworthy.
Broken by hard knocks, and hard losses and missed opportunities and deception and disrespect or abuse or just getting dealt a bad hand.
Broken by unfairness, and illness, and too many years going by without realizing any big dreams (or not enough small dreams) coming true.
Isn't that a really depressing arena to decide to work in?, I was asking myself.
But then one day I stood out in the sunshine, listening to birds sing and bees buzz and feeling so damn amazing that I had managed to manifest such a seriously wonderful life and relationship, and recognizing that it all came pouring forth out of my own broken heart, out of my own painful experience of heartbreak and healing and I realized that to me, right now, there could not be one single thing more powerful, more noble, more magical – than helping you heal up the places inside that feel broken.
Because here is what I know…
…that everything you want is on the other side of your broken heart
…that your deepest wounds are directly connected to your life purpose
…that there are NO missing pieces in the Universe, you are NOT just taking up space – you are precious, you are needed, you have a purpose, a calling, and you belong here.
And that you really do have what it takes to heal, to be whole, to be full of the most amazing and magical shining energy.
You have that power within you, I promise.
Sometimes it seems impossible to see beyond the pain of loss, the blinding all consuming pain of brokenheartedness. But once you begin to heal even a little bit, once you let the light in just a peep, once you begin to get quiet enough to listen to that still, small, strong, wise voice within you, those wishes and dreams and hopes start to get a foothold, a little nurturing and suddenly a sprout here and a sprout there, and finally a bud, a blossom and then a full bloom, and fruit.
Today I wish you Love. I wish you Peace. I wish you Healing and Wholeness.
I wish for you the experience of recognizing that the opportunities for more love and more magic and more of everything you want are right here, right now – right there on the other side of your brokenheartedness.
You are loved. 🙂
Love & Magic,