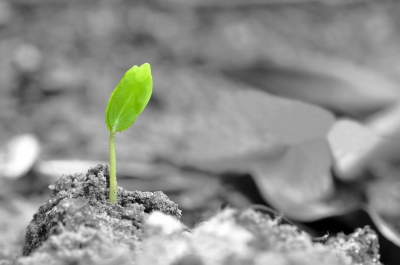 This morning I was looking through an old journal, and began reading a few entries that catalogued a particularly rough time in my life.
A time when I was working on mending a broken heart, overwhelmed with a big life transition, and was struggling financially to make ends meet.
Right smack in the middle of one of the pages I had jotted down the following quote:
Difficulties and obstacles will continue to come until we absorb their wisdom and gather from them the essentials of further growth.
The inexorable requirements of growth demand that we exert the greatest degree of attraction for what is perfectly in accord with us.
Our highest happiness will be best attained through our understanding of and conscious co-operation with natural laws.  Charles Haanel
Underneath the quote I had written: "Everywhere I look the word GROWTH hits me square."
Ah, a growth spurt, complete with growing pains.
We are all growing, some of us consciously, some of us quickly, some of us by default.  But we either grow or die, certainly true.
Pema Chodron said that "nothing ever goes away until it has taught us what we need to know…"
Those things that we struggle with are the very things we need to grow into what we will become next.  The Universe gives us precisely what we need.  That inexorable thing we often resist is helping us attain our highest best, our highest happiness…and it can be painful.
Sometimes it looks like not enough; not enough time, not enough money, not enough love.  And yet…it is EXACTLY enough because it is the very thing we NEED right NOW for our perfection, for our evolution.
We all want more of something…as well we should.  That is nature…always desiring to expand, to grow, to BE MORE, DO MORE, HAVE MORE… and first we must become more.  And that happens when we allow our current circumstance to teach us, to help us, to guide us.
That thing you've been struggling with?  It is your next phase of personal growth.  It is your teacher, your friend, your guide.  And it is exactly what you need to move forward on your journey of becoming the best and brightest and happiest YOU.
There is enough time, there is enough money, there is enough love.
Love & Magic,

Image courtesy of arkorn / FreeDigitalPhotos.net