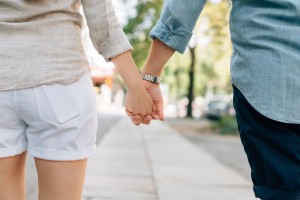 Each year I choose a "theme" for the year and use it all year as my guiding light. Doing this each year has helped me stay on track to create the kind of life experience I want to enjoy. This year when I began to ponder a theme I decided to choose words that expressed how I want to feel. And as I did this I had FIVE words come up! The first word was "Powerful", the second word was "Magical", and the next word was "Safe."
I'm so thankful that I have a wonderful relationship that I feel very safe in, because for years that wasn't my experience. I know now that it is possible to feel completely safe in a relationship, and I want that for you, too.
This year as I pondered how I'd like to feel I realized I want to feel that same level of safety in all areas of my life, such as in my relationship with money, in my business endeavors, in saying yes to opportunities.
I addressed the idea of feeling safe in my latest gift for you, The Lovely Magician's Guide to Soulmate Success, and I thought I'd share an excerpt here on the blog.
Safety & Self-love
A few years ago I recognized a trending theme in some of my coaching sessions one week, the desire to feel safe. The common denominators: Each client that communicated this desire was a woman, and all of them were referring to relationships with men.
I believe that one of the most important (if not THE most important) relationship ingredient for a woman is safety. When I speak of safety I speak of physical safety, of course, and also emotionally safety, and sexual safety.
As a relationship coach I hear this desire for safety expressed often, and as a woman I can relate to and understand this need.
One evening I was out riding my bike, and reflecting on my day.
As I was riding and thinking about the common thread throughout these recent coaching sessions I noticed a beautiful college age woman riding her bicycle around the lakes. She was not wearing a helmet.
Cyclists without helmets… something I see too often. My thoughts then turned to the drivers I see that are texting while driving and talking on cell phones while driving, once I even saw someone working on a laptop while driving! All unsafe activities that, unfortunately, people engage in all too frequently.
That is when these two trains of thought collided and merged into another thought; People often live out an identity that is not in alignment with their desire.
In this example, how can I expect to feel "safe" in a relationship if I am consistently putting out a message to the Universe that safety isn't really one of my primary concerns?
The world around us is a mirror that reflects exactly what is going on inside of us. Our life experience is always directly related to our identity.
When what we say we want isn't showing up, the clue we're looking for can first be found within, and it shows up in our outside experience in our relationships with other people and things.
Our outer experience is a mirror of our level of self-love. When we decide to start loving our self fully everything in our outer experience changes for the better, including our relationships, of course.
****
I'd love to hear your thoughts on this excerpt in the comments section! And be sure to get your free copy of The Lovely Magician's Guide to Soulmate Success!
Love & Magic,