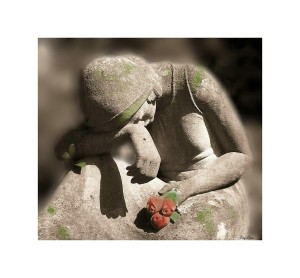 This is not the easiest thing for me to admit. But, last week I had a meltdown.
A bunch of stuff had been weighing on me and of course I KNOW this stuff isn't the truth (at least I know it isn't the "true true" – because it didn't feel good…it is the "evidence" that I was seeing that DIDN'T feel good), and I KNOW this…but still…occasionally meltdowns happen.
And it's not always a bad thing. Pressure builds up, and it needs release, and sometimes the best way to release it is to, well, have a meltdown. But there is an art to having a proper melt-down, especially if you don't want the event to hinder your manifesting progress.
I had my melt-down after a long and sad conversation with The Handsome Sweetheart, during which he listened, looked pained several times, reassured me of my awesomeness and magic making abilities, and told me everything was going to be okay. We were in a restaurant, so we talked, ate some sushi, had a glass of pinot noir, enjoyed relaxing after a long day, laughed a bit, and then came home.
After we got home, the tears came. The Handsome Sweetheart held me and reassured me, his sadness mingled with mine, his love and faith in me giving me strength.
After I let the tears pour I pulled myself together and we had a lovely evening.
I slept like a baby afterward. I woke up refreshed and full of inspiration, ready to start something new, ready for success.
The Handsome Sweetheart is an incredible man, and I trust him with all of my thoughts, desires, and dreams. And he has faith in me, but not only that – he has faith, period.
He understands vibrations. He understand the power of words. He understands my personal brand of magic. He gets it.
This is precisely why this meltdown I had will not hinder my magic making abilities. In fact, if anything his faith, his love, his understanding of me and my magic – will increase and free up and support me in my manifesting.
The way to create more blocks, more resistance, more struggle, and more "where did my mojo go?" energy is to have your meltdown with someone who doesn't "get it".
Someone who is an expert at commiserating with you. Have you ever heard the saying, "Misery loves company"? This phrase exists because it is so often a reality. And the best way to have a meltdown that only makes things worse is to reach out to someone who only knows how to join you in your misery. At times this can feel good at first, ("Hey someone understands where I'm at!") Until it becomes obvious that this person is dragging you over into Victimland, that place you were just making a quick pit-stop in and now…looks like you might be staying a while.
This is where the conversation just keeps going and going and suddenly turns the corner into a long drawn out convo about "I remember when this one awful thing happened to me, and this…and this…and this…" perpetuating the Victimland vibe and creating a wave of catabolic energy that can only lead to manifesting more of whatever triggered the meltdown in the first place.
So here's the trick…IF you feel yourself about to have a meltdown, make sure to reach out to someone who can lift you up, someone who believes in you, a mate, a friend, a coach, a loved one who "gets it"…someone who can turn your vibe around just by being there with you.
Someone who can tell a better story than the one you're telling yourself right now.
I promise it will all work out.
Love & Magic,