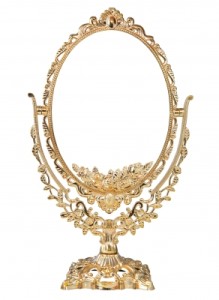 Recently I made a connection with someone I've wanted to work with for a long time, at least a year or more.  I was in the middle of a yoga workout, right there smack in the middle of downward dog, when I had an epiphany.
I left the mat, went directly to my computer, and sent an email letting her know that I would like to schedule a conversation.
What was the epiphany, you ask?
It was simple. I realized that if I am wanting to work with someone for A YEAR before reaching out and taking action then chances are I'm going to have people wanting to work with me for a year before they reach out.
A YEAR!! That means a year of NOT taking action, not getting results, not dealing with the problem, not creating something new, not moving forward, not finding the level of success they desire, etc.  And THAT got me off the mat.
The Universe showed this to me via the lovely and faithful "Magic Mirror" idea. Right there in the middle of my yoga practice as I thought (for the umpteenth time) that I'd like to work with this person –  BOOM – I took a look in the proverbial Magic Mirror and realized that if I want people to sit around just thinking about asking for my assistance and help for over a year without reaching out then I needed to just stay right there on my mat thinking about it instead of reaching out.  And THAT was something I wasn't willing to do…not even for 10 more minutes.
We can use this idea to actually create what we want. In the same way we use a real physical mirror when we want to put on some lipstick, or try a pretty hairstyle, or check for food in our teeth to create and maintain a beautiful appearance, we can also use the Magic Mirror idea to bring about a result in all areas of our life…emotional, spiritual, relationship, finances, business.
What is it you keep saying you want but are NOT taking action on?
What small action can you take today, to begin creating that thing you desire?
Maybe you want your boss to give you a raise, but you usually aren't a very generous tipper when you go out to eat?  Maybe you want your kids to spend more time with you but you haven't spoken to your own parents in forever.  Maybe you'd like to have some help with a project, but you haven't been willing to offer help to someone else when you saw the opportunity.
Metaphysically speaking, we get what we put out there.
Try using the Magic Mirror as a tool to help you "see" what it is you're missing and help you decide what small action you can take now.  Let me know in the comments below what you "see" when you take a look!
Love & Magic,

Photo Credit: Witthaya Phonsawat – freedigitalphotos.net