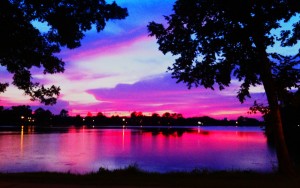 Today, I'm counting my blessings, and my blessings include you. (Did you know you are a blessing?)
As the sun begins to set on 2014, we begin to look at the coming year as a new day, a new dawn, a new chance to rock the world, a fresh start.  And all week I've been working in my 2014 planner (OMG I love this planner!) but before diving in to plan 2014 I've been taking stock of, and celebrating 2013.
I've spent some time remembering what I've experienced this year, remembering all of the reasons I have to be grateful. There were so many things that I had forgotten about until I got intentional about remembering them all – the victories as well as the defeats.
The wonderful opportunities as well as the snafus and frustrations. And it was such a powerful thing to take a look at the past year and just remember that I decided to write a short post for you, to remind you…
I want to remind you that when things hurt, when times are hard, when you feel discouraged, that there is a gift in that experience – don't give up! Keep looking for the treasure. Keep loving yourself, keep on keeping on – you are powerful. Remember that time when you totally rocked it, when you got it, when you nailed it, when you wanted to shout from the rooftops that you made it! Remember your victories.
When you are struggling, when you have to make a difficult decision, when your heart is breaking, Remember that this too shall pass.
Remember that there are no mistakes. Remember how much power you have within yourself. Remember that you are a glorious, splendid, wondrous, brilliant being. I mean BRILLIANT – You are made of star stuff, you are made of Love.
And when you are feeling relief, when you are feeling happiness, when your heart wants to break open for joy, when you can't stop laughing, when you are smiling, when you catch a glimpse of your own sparkle, beauty, strength, and power…when you feel loved, accepted, and unafraid – remember to CELEBRATE!
Remember to play full out, to say YES, to be authentic, to allow yourself to be vulnerable, to trust the process, to listen to your body, to make powerful intentions.
Remember that the Universe is always supporting you.
And remember, you are a blessing.
Love & Magic,