"We must be fearless, as only love can make us fearless." Marianne Williamson, Enchanted Love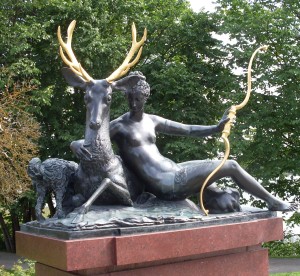 Since I'm always suggesting that the Universe will give you signs if you are willing to see them, I thought I would show you how this has played out personally for me in the past few days.
I want to show you the breadcrumbs that I've followed the past week, the magical stuff that can happen when you begin to ask the Universe for guidance, and are open to what you are shown.  And you'll also get a glimpse of my reading list, as I am hopelessly addicted to books.
This past weekend my Handsome Sweetheart and I took a trip to Dallas, TX for a wedding (Congratulations, Katie and Andy!!).  It was a long drive (and a beautiful wedding!) As usual I brought along my enormous collection of "things-to-do-on-a-long-drive".  This included books, knitting, my ipod, my journal, my ipad, the latest issue of House Beautiful, a sketchpad and my favorite ink pen.  I know, you'd think we were driving coast to coast.
One of my on-the-road-again activities was working in my journal, a bit of self-discovery. I was working on an exercise I learned from Maria Nemeth in her book The Energy of Money: A Spiritual Guide to Financial and Personal Fulfillment
. (Which is fabulous, BTW.)
The exercise involves first making a list of people you admire.  The book provides a lot of prompts, starting with the obvious suggestions (parents, siblings, relatives) to the not so obvious – (teachers, janitors, historical figures, Sunday school teachers, religious leaders, sports icons, etc.)
My page was filling up quickly and then it was suddenly full, as I reached the last of the prompts – "fictional characters, historical figures, mythological figures."
MYTHOLOGICAL figures.  Hmmmm.  I've always "admired" Artemis. My given name, Cynthia, is another name for Artemis, or Diana.  Diana being the Roman version of the Greek Goddess Artemis, both of them being born on Mount Cynthos – they are sometimes also known as "Cynthias". So, the moon goddess Artemis is a sort of 'namesake' for me.
She is the Goddess of the Moon & Sun, Protector of Women, and Goddess of the Hunt (and she has a golden bow and arrow which legend says were crafted by moonlight – pretty much the awesome sauce).
All of those things sound sort of magical to me, so, "Cool", I say to myself, "I should add her." But I had run out of room on the page.  So, I think, "Meh, I've had enough of this for now, I'll deal with the rest of the exercise later."
I closed the book, and my journal, and stuffed them back into my bag of overflowing things-to-do-on-the-road. Just then my cell phone rings.  I don't recognize the number, so I let it go to voicemail. Lately I've been getting more and more "junk mail calls" anyway.  Probably just some telemarketer, they never leave a message anyway.
A few moments pass and my Handsome Sweetheart pulls off the interstate and into a gas station.  I, of course, am now reorganizing all the junk that I've brought to keep me busy on the road, and I notice that I do indeed have a voicemail.  It is a call that was most likely meant for someone else, although I hesitate to label it a "wrong number"…because it says this:
"Hi, this is Kathleen calling from the archery shop, and I just wanted to let you know that your bow is ready."
WHAT? (Even as I type this I can't stop laughing).  Okay, so I guess I need to put Artemis on that list after all.
With Artemis added to the list, I begin the  second part of the exercise…listing the qualities of each person (or in this case Goddess) that I admire.  Next to Artemis I write "FEARLESS".  I then realize this is a quality I've also written for half a dozen other people I admire.  It is also the one I clearly don't recognize in myself.  The one that sort of scares me a little.
We enjoy the beautiful wedding and have great fun dancing the night away (OMG my Handsome Sweetheart can rock a suit let me tell you), and on the following day we make the long drive home.  On the way home we see this: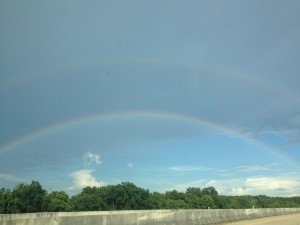 It's the first rainbow I've seen in a very long time, in spite of all the summer rains we get.  AND it is a DOUBLE rainbow.  (What does it meeeaaannn???)
We make it home from the beautiful wedding on Sunday.  On Monday I am taking a bit of time to relax, and read a book.  I'm reading Marianne Williamson's book Enchanted Love: The Mystical Power Of Intimate Relationships
.
It is not available on kindle, so I'm sitting down with a real, hardback book.  Snuggling down into my favorite chair with a cup of tea I suddenly realize that I don't have a book mark. (It is funny to me now that it seemed so important that I find one immediately!) I lean over my chair and stretch out to open the bottom drawer in a cabinet full of art supplies where I know that most probably there are many little scraps of paper and there must be something I can grab to mark my place.
I open the drawer and this is what I see: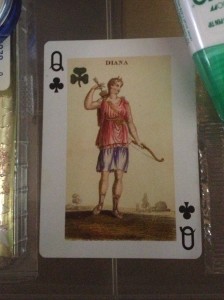 I've collected card decks for years. This is one I bought to use in some collage art, and the rest of the deck was still packed in the original box, in another drawer.
Now, the Universe most definitely has my full attention.
The following morning I'm having a discussion with my son about all of this and what significance it might have, and I mention "getting my finger print book back out."
You see, I subscribe to the idea that our life purpose is "written" in our finger prints.  I've read Richard Unger's book Lifeprints: Deciphering Your Life Purpose from Your Fingerprints

to decipher my own finger prints and according to Unger's work the message within my fingerprints shows that my school in this life is what Unger refers to as "The School of Peace", and my life purpose has to do with community and family bonds.  This has always made perfect sense to me, since a big part of my gift is helping people find Peace, especially in relationships with other people.
The thing that I couldn't remember this week was my life lesson according to this system. I was drawing a total blank. The life lesson is that thing that continually trips us up until we master it. And I couldn't for the life of me remember what the book said about mine. I looked it up – there it was – Life Lesson: Powerlessness.
Ugh.  Really? is that REALLY my life lesson?
At this point I'm wanting someone to show me the easy fix for this. So of course I consult google.  I search for "finger prints life lesson powerlessness" and I find a very short blurb advertising a private call that has already taken place. The blurb is accompanied by this picture: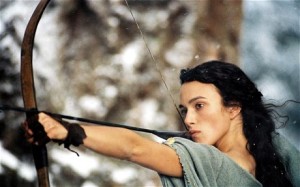 Seriously.
So what does this all mean for me? What is the Universe saying?
That I already have the tools I need, they are already part of me.
That the moment that I feel powerless is the exact moment I have an opportunity to stand in my power.
When I tell my Handsome Sweetheart that I'm pretty sure I don't qualify for the FEARLESS badge, he says to me, "You are very brave."
At which point I remember the Game of Thrones scene when Ned Stark's son Bran asks "Can a man still be brave if he is afraid?" Ned's reply, "It's the only time a man can be brave."
When I feel afraid is the time to remember that Bravery is within my reach.
Fearlessness only has value when Fear shows up.
And in spite of google's awesomeness, there is no quick fix for learning a life lesson. There doesn't need to be, because the magic is in Being, and being (being brave, being honest, being authentic, being powerful, being fearless) happens in the moment. Moment by moment.
Love conquers every Fear, every time. And when I feel like I'm unsure of my direction, the Universe will never fail to show me the way, when I open my eyes and am ready to see.
I'm not sure what you'll take away from this post.
But I do want to tell you that your bow is ready.  Be brave. 🙂
Love & Magic,