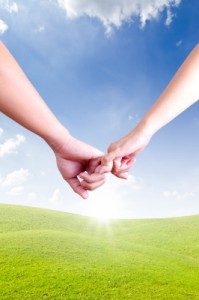 At the beginning of this year I became aware of a concept that was popular among the historic Celtic people. The concept is called "Anam cara", which translates as "soul friendship", and was considered one of life's most sacred treasures.
"Anam Cara" was a meeting of two souls that was considered destiny, a sweet connection that served to awaken each to the soul's journey.
I have (thankfully!) a handful of people in my life that I have felt this "destiny" with, some of them upon first meeting or very soon after.  A sense of "history" or timelessness between us.
In this Druid vow of friendship, we see the workings of Anam cara…. and I loved this so much upon discovering it that I committed it to memory, and want to share it with you today.
♦♦♦♦♦♦♦

I honor your path.
I drink from your well.
I bring an unprotected heart to our meeting-place.
I hold no cherished outcome.
I will not negotiate by withholding.
I am not subject to disappointment.
♦♦♦♦♦♦♦
My wish for you is that you will find this depth of friendship many times on your journey through this life!
Love & Magic,
Cindie