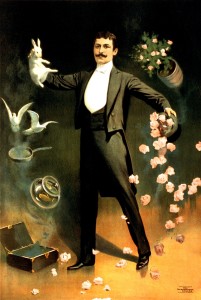 "A person knowing the power of the word, becomes very careful of his conversation."  Florence Scovel Shinn
What comes to mind when you hear the phrase "Magical Words"?
Words of love? Poetry? Prayers? Affirmations? Spells? Chanting? Sacred Writings? Love Letters? My blog? (kidding) Blessings? Songs? – All powerful words.  All-powerful words.
Lately I've been thinking about the magic and the power of words.  In fact the other night I dreamed all night that I had written an article titled "Magical Words"…so here we are.
Words, what would we do without them?! A friend of mine once told me a story about a silent retreat that he and his wife took. By lunch of the first day she was trying to spell a message to him with the carrot shreds in the salad. Words are such a necessary part of our daily life, we hardly know what to do when we can't use them. And we use a lot of them. (especially me.)
Powerful words.We bless, we pray, we affirm, with words.
Many creation myths tell of the world being spoken into existence.
In the 15th century the "Sefer Raziel HaMalakh" (a Jewish text 'The Book of Raziel the Angel') presented a teaching about the power of speech.
The famous conjuring phrase of magicians the world over, "Abracadabra", comes from the Aramaic "Avra" (I will create) "Cadabra" or Hebrew "Kedoobar" (as was spoken). Abracadabra – I will create as was spoken.
How careful we would become regarding our conversations if we really understood the power of our words…and  not just our conversations with others, but the conversation (usually an ongoing stream of words) that we have with our self, those 60,000 words per day that are our thoughts – the words we speak in our inner conversation.
We indeed create our experience with words.
Almost everyone I know can remember a time as a child where someone spoke something to them that has stayed with them to this day, years and years later.  Whether it was a word of hope, of encouragement, of blessing, or words of criticism, hatred, or shame.  Many times those words still have power years later. Power to create beliefs and stories and experiences.
The book of James in the Christian bible admonishes us, "Out of the same mouth proceeds both blessings and cursings, brethren these things ought not to be!"
Can we expect results from our own affirmations for our personal prosperity and wellness and yet continue to speak words of resentment or tell stories that foster our unforgiveness?
Resentment and unforgiveness will block you from being in the flow of abundance like nothing else can block you. Here's the fix – Stop telling the story of how someone hurt you, forgive them and let it go.  They hurt you once, and by telling the story over and over and over you hurt yourself many times more. Your brain and nervous system and body experience those painful emotions every time you tell the story.
Forgiveness opens the door to abundance. Resentment nails that door shut.
By forgiving someone you aren't agreeing with what they did.  You aren't "letting them get away with something." You're just freeing yourself from the results of unforgiveness and you're making the choice to heal.  Telling the story over and over keeps the wounds open.  Move on.  Recognize what you learned from the opportunity and apply it. And if you are having trouble, reach out and get help.  Get a coach, or a therapist, to help you move through it.
Believe that you can heal.  Believe that you can create abundance.  Believe in miracles.  Believe that everyone is doing the best they can at any given time.
We choose our beliefs.  Our beliefs inform our thoughts.  Our thoughts create our stories, and those stories are comprised of the words that create our experience.
Our words literally speak our life experience into existence. Our words are powerful…
And other people's words only have whatever power we give them.
It's our own words that have the power to change and direct (for better or worse) our own lives.
How many of us can catch ourselves being resentful that someone whom we think is undeserving of abundance is thriving?  (or maybe we just think they're "lucky")
How many of us use mantras (all the time!!) like "I can't afford it", or "nothing ever works out for me", or "She's so lucky!" or "I wish I could have that but it will never happen for me" or how about "all the good men (or women) are taken" – ALL powerful words that will create what we experience.
And if we keep speaking those words on a continual basis we continue to create poverty, lack, ill health, loneliness, "bad luck" and all manner of misery and suffering for ourselves.
Believe me, I've created some suffering of my own in my life, and I recognize now how I did it, and I take full responsibility for it, which  means that I'm not suffering now.
I do experience pain because life can be painful.  But suffering is another story.  As they say, "Pain is inevitable, suffering is optional." Here is why it's an important distinction to make…
Your suffering is never going to evolve into your bliss. Never.
The fastest way I know of to move from suffering to bliss is to change your language.  Change your words.
Stop using words like "have to", "can't",  "should" and "need" for starters. (More about that here)
Now look, I'm NOT talking about being a Pollyanna and ignoring our uncomfortable feelings.  All of our feelings are miraculous, they're all valid, and we need them ALL – they give us great information. And if we are smart we can take that information about how we are feeling and use it very wisely.  We can also choose the words we want to use and choose the stories we want to tell to create more pleasurable feelings and emotions.
I recognize that sometimes we think we don't have enough (usually about money) so another trick I love is to
1. STOP saying there is not enough (If you are still here and still alive then somehow there has been enough!) and
2. Actively and consciously recognize that there is usually WAY more than enough. I need a tea bag to make a cup of tea and I have about a hundred of them in the drawer – more than enough.  I need about a teaspoon of shampoo to wash my hair, and I have almost a whole bottle, WAY more than enough.
Do you see where I'm going with this?  All the times you want to say "I don't have enough (usually about money), realize that in most areas, right this minute, you have MORE than enough.
Everytime you have more than you need, be aware of how abundant you actually are! (Bonus points for actually saying it out loud! Powerful words! "I HAVE WAY MORE THAN ENOUGH!!")
We all have bad days, we all have shitty experiences, but we don't have to suffer endlessly over them.
One of my favorite ways to "reframe" and shift my perspective during one of "those times" is to say this: "This experience [fill in the blank with actual thingie that sucks] SUCKS, and it's also giving me the opportunity to [fill in blank – be creative – look at the bright side – SEE the opportunity.]
Like this: "Spilling all of these coffee grounds on the floor sucks, and it's also giving me the opportunity to get the floor a lot cleaner than it was a few minutes ago."  In fact, I ACTUALLY said that because it ACTUALLY happened.  I dropped the full coffee filter full of used coffee grounds on the floor, and you know what, it sucked.  I was pissed.  I was in a hurry.  AND I used those exact words. "This sucks AND it's giving me the opportunity to have a much cleaner floor." Then I burst out laughing. Then I cleaned up the coffee grounds, mopped the floor…and only 10 minutes had passed and yes, I absolutely had a cleaner floor than I did before I dropped the coffee filter. (Because I hate mopping so it really was time to mop. LOL.)
In time and with enough practice maybe I'll be able to skip the sucky part altogether and jump right to the opportunity part.
Having a crappy experience might give you a much bigger opportunity than a clean floor.
It might give you the opportunity to forgive, to be patient, to heal, to love (even maybe to love someone who seems really unlovable), and to make magic.
Words are magical and powerful. What words are you using to create your life experience?
Love & Magic,
Cindie
P.S. Have you joined us over at The Love & Magic Salon yet? It's a FREE PRIVATE FACEBOOK COMMUNITY and it's for you!  Come visit, hangout, play, and make magic with us.