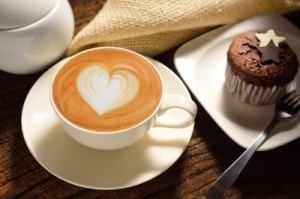 This past week we've been "snowed in"…by a half inch of snow.
Because that's how we roll here in the deep south.
The roads and bridges were icy due to an unexpected cold snap, so schools and businesses closed up until the sun decided to come out and melt away the troublesome frozen layer. We just don't always have what we need to survive and be safe and comfortable in sub-freezing temperatures. Heck, some of us don't even own a heavy coat, let alone things like snow tires and ice scrapers.
So the snowdays began with my Handsome Sweetheart home, along with a few other loved ones who suddenly had no school or work.
Outside it was in the 20's with frozen rain falling from the grey sky.
Inside there was fresh coffee, hot cocoa, a down comforter, my Handsome Sweetheart, and a queue full of time travel movies.
Pop quiz: How much writing did I get done during the 2-day Winter Wonderland Staycation?
Answer: None.
And I had a wonderful snugly time with my Handsome Sweetheart – I have no regrets about our impromptu snow days. I did however recognize that I proved a theory to myself – that theory being: "Environment trumps intention".
And I'm not talking about the weather. (Although in this case it definitely played a part). I'm talking about my "work" environment, my "home" environment, my "life" environment. You see…Tuesdays are my intended "writing days", and this past Tuesday my environment absolutely trumped that intention.
I was "distracted by something shiny"…namely hot cocoa, time travel movies, a down comforter, and my Handsome Sweetheart. Nearly impossible to resist that combination.
And, I enjoyed every single warm snugly minute of it.
A few weeks ago I spent several sessions with clients helping them determine their themes for the new year, and brainstorming with them to create some support systems and ideas to help them fulfill those themes.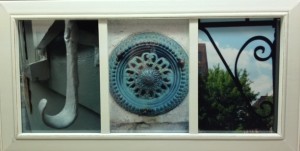 One of my clients chose the theme of Joyful Service, because she has a desire to serve more people this year and she intends to do it from a place of joy, and not from a place of fear, guilt or obligation. She made herself a fantastic piece of art to hang in her office, it says "JOY". She placed it there in her office to remind her of WHY she does what she does. It is a powerful addition to her "environment" that supports her in serving others with joy. Another thing I love about her artwork is that she took all of the pictures herself while on vacation – an entire alphabet made up of architectural details.  At first glance you might not notice that the details are spelling out the word "joy"…but look again, there it is. Another powerful reminder that we can find what we are looking for almost anywhere if we search for it with intention.
If we create environments and systems that support our intentions we have a greater chance of success – not to mention an easier more pleasant time of it. I promise that when you also build in accountability (via a supportive group of like-minded peeps, or by partnering with a coach or mentor) you will find yourself succeeding more and more.
And hey, if you wake up to an unexpected snow day or two – it's okay. Give yourself a break, find the warm snugly place, and know for certain that when the sun comes back out you'll be able to look back and find the lesson buried beneath the frozen layer.
Love & Magic,

P.S. If you'd like some support in creating an intention, here is a 20 minute audio exercise called The Magic of Intention I created recently for the Raising Loveliness Retreat.
photo credits: hot cocoa – amenic181- freedigitalphotos.net "Joy" – Lori Pannell